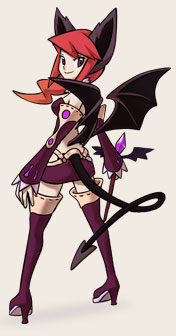 Bat the Night Mage. She is the 12th of the "Tails" that are playable. She is efficient is at flinging curses and debuffs from afar and is well-trained in dark arts. She can also create doppelganger to confuse foes and can be equipped with life draining abilities. There are two "Routes" that she can learn skills from, the Shadow Caller (Route A) and the Dream Caster (Route B).
The nocturnal mage of darkness, she specializes in debuffs.

Shadow Caller
Dream Caster
The illusionist of dreams. She can use her power to create shades to confuse enemies and can also learn a variety of debuffs.
Stat Building
Edit
Stat Builds
Edit
Attack: Although Attack determines the amount of damage inflicted on Drain Life, The damage of Drain Life cannot exceed the cap of the max damage (9,18,27 dmg). However, if you have Shadow Illusion, Doppergangers also do damage based on your attacks. You might add some points here to increase normal damage.
Defense: Being a magic caster means you don't have much Defense and Vitality to begin with. Defense and Vitality can help you survive to inflict more debuffs. Vitality however seems to do better in defensive style.
Agility: With many Agility, skills have less cooldown so you can use the skills with less gap. However, you might want to keep an eye on your MP.
Vitality:As said in Defense, Magic casters are quite vulnerable. Invest some points here to survive longer.
Intelligence: Intelligence is important as Bat's skills use MP, if you have lots of Intelligence you can cast many spells to debuff or confuse foes. It also reduces spell cast time so you can use much more skill in continuation.
Charisma:
Talent: Talent's not much of important as Bat's skills focuses on debuffs. Only few skills like Dream Dazzle, Phantasm Blast, Echoes need Talent to boost the damage of the skill.
Luck: Luck's only useful for Charm as Luck affects the chance of the move that has the chance of occuring, Charm is the only move with that properties. Luck also affects Auto Mass, but Auto Mass is quite late to achieve as it is the fourth of the basic addition of C-skill tree.
Possible Builds
Edit
Fill out this section later.
Skill table
Edit
 
Basic Skills
A Tree
B Tree
    
Skill
State
Lv

Combo

Give Bat a combo attack.

Passive
3
Drain Life

By holding left click while targeting an enemy, Bat will drain enemy's health slightly, not affected by enemy's DEF.  (6, 9, 12% ATK, up to 9, 18, 27 dmg)

Passive
3

Drain Mana

By holding left click while targeting an enemy, Bat will drain enemy's Mana slightly.  (6, 9, 12% ATK, up to 9, 18, 27 MP)

Passive
3
Mass Cast

After using this skill, Bat next skill will hit every enemy around the target enemy 18 metres.

Active
2
Stat Plus

Adds +2 points to every status per level.

Passive
4
Final Move

?????

Active

Support Skill

State
Levels
Blood Carnarge

Bat curse that drains enemy's HP and increase user's HP slightly.

Active
1
Shadow Caller
Edit
Shadow Caller Skills

State
Lv

Phantom Bane

Place a Bane curse on enemy. Bane Curse will consume enemy's health points every second.

Active
4

Shadow Gaze

A dark art that hurts enemy instantly.

Active
4

Dissolute

A dark art that delete all enemy's buffs.

Active
2

Corruption

Place a Corruption curse on enemy. Corruption Curse will consume enemy's health points every time they attack.

Active
2

Curse

Place a Debuff curse on enemy. Debuff Curse decrease enemy's all status point.

Active
4

Echoes

Project 3 magic balls that can track enemies.

Active
2

Nightmare

A dark art that bind an enemy and damage him every second.

Active
2

Amplify Damage

Bat next attack hit (or charge attack hit) makes more damage.

Passive
4

Doom

Place a Doom curse on enemy. Doom Curse will make a great damage to an enemy after it has been placed on enemy 1 minute.

Active
2

Shadow Mastery

Gain the ability to place the same curse twice on the enemy.

Passive
2

Guardian Of the Night

Summon a great shadow force to support Bat in a battle.

Active
2
Dream Caster
Edit
Dream Caster Skills

State
Lv

Mirage Orb

Create an invisible sphere that damage all enemies in it's range. (30 sec)

Active
4

Shadow Illusion

Create a Doppelganger Bat to aid the user in battle for 30 seconds.  1 Bat at level 1, 2 Bats from level 2 on.  (50, 50, 75, 100% Bat's ATK)

Active
4

Blind

Place a Blind curse on enemy for 15 seconds. Blind Curse will make a target enemy's attack have the chance to miss. (20, 40% miss chance)

Active
2

Confusion

Place a Confuse curse on enemy for 15 seconds. Confuse Curse will sometime make a target enemy's skills doesn't work.  (12, 24% confuse chance)

Active
2

Hate Transfer

Place some hate point that's belongs to Bat to the target.  (20, 40 Hate)

Active
2

Switch

Switch Bat's position with Bat's doppelganger.

Active
1

Swap

Switch Bat's position with a target ally/enemy.

Active
1

Dream Dazzle

A magic attack that reduce enemy's SP.  (25x3, 40x3 dmg, -18, 24 SP)

Active
2

Phantasm Blast

A magic attack that reduce enemy's MP.  (25x3, 40x3 dmg, -18, 24% MP)

Active
2

Charm

A curse that change a target enemy into an ally for 12 seconds.  (30, 50% charm chance)

Active
2

Mind Control

Control one target enemy beneath a certain level for 12 seconds.  (Lv. 35, 50 and below)

Active
2

Dream Burst

Give Bat's illusion more defense and make Bat's "Drain Life" attack burst every 6 seconds.  (20, 40, 60% DEF, with a burst every 7, 6, 5 sec, dealing 20, 24, 28 dmg and 2,3,4 KO)

Passive
3

Mimic

Mimic a target ally or enemy beneath a certain level.  (Lv. 35, 50 and below)

Active
2

All Mimic

Give a mimic ability to Bat's doppelgangers and increase Bat's "Drain Life" attack range by 50% .

Passive

1
NO SKILL CLIP

Black Queen Skills

State
Lv
======= Basic Tree Additions

Illusion Effect

Give illusion's normal attack the effect from Bat's weapon and the ability to give SP back to Bat.

Passive
55

Dark Intention

Increase range of 'dran life' by 50% and increase its damage by 3%.

Passive
60

Merciless Drain

Give 'drain life' the ability to drain 3 SP from the target. Inflict 66 damage when it cannot be drained.

Passive
70

Auto Mass

Give 13% chance for any spell to be mass cast. Enable C skills to be mass cast.

Passive

Super Stat Plus

Increase all stats by 10.

Passive
======= A Tree Additions

Demon Bane

Increase the effect of Phantom Bane by 1 level and increase its duration by 6 sec.

Passive
55

Demon Gaze

Add 12 damage to Shadow Gaze and reduce its cooldown by 33%.

Passive
60

Shame

Inflict target with 'shame5' status, reducing 40 char and incresing effect of later curses by one level.

Passive
70

Dark Stalker

Summon a shade to deal damage to target player until he/she dies. Cannot be cured.

Soul Eater

Deal damage equal to the total level of debuff on the target. (33 dmg per lv, max 1333)

======= B Tree Additions

Distant Orb

Add 12 damage to Mirage Orb and enable bat to create it at target location.

Passive
55

Shadow Sacrifice

Sacrifice all illusions to give 20% of their remaining hp back to Bat.

Passive
60

Chiroptophobia

Continuously deal damage to any target within 13m that has blind or confuse status.

Passive
70

Paranoia

Deal damage equal to the number of friends around target. Enable switch to remove lv5 lock status.

Shattering Dream

Cast a spell that deals damage and reduces target's MP ans SP. Increase 'dream dazzle' and 'phantasm blast' by 1 level.

======= Unique Skills
Revised Skill

Reduces Sp cost of skills by 50%

Passive
55
Revised Magic

Reduces Mp cost of skills by 20%

Passive
60
Revised Art

Reduces cooldown by 12%

Passive
70

Nefarious Whip

Summon shadow vines that deal damage equal to Bat's CHA.

Active

Black Servant

Temporary revive target dead enemy player and swith it to bat's team. (90 sec)

Active
Links and References
Edit
- http://12tails.herorangers.com/gameinfo/character/newchar.html