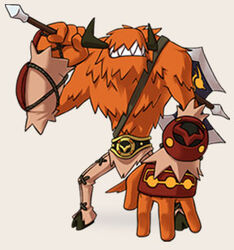 Bison the Berserker is a second member of the 12 Tails. Brutal yet slow, the Bison is able is swing his axe to inflict damage around him. While not as tanky as Whale, he compensates in his fighting style. His attacks can KO an opponent more than the other tails and he can also buff himself according to the situation.
The Fight-hardened Veteran. The Gladiator is ready to stand against all enemies before him with the skills that he has gained from his experiences. His fighting style focuses on attacking and attacking until one side gives.

Gladiator
Warlord
The Frontline General. With undaunting will and hardened resolves, the Warlord fights on in otherwise long and exhuasting battles. Utilizing skills he devised, he can take damages for his team while still being able to put the pressure on his foe. The Warlord's abilities is mainly about raising "Hate" for his team and being able to tank in their stead while still being able to inflict damage.
Stat Builds
Edit
Attack: Attack should be the first priority for Gladiators. Since most of the route's skills depend on Attack. Enrage and Over Power are affected greatly by Attack. (The amount of Atk added while having those two buffs depends on how high your Atk points are.)
For Warlords you can either spend all of your points on this stat or just ignore it. The amount of hate made using normal attacks can be multiplied by Over Pride passive skill so you can draw monsters' attentions to you. But the hate problem can be solved by simply having Sheeps that can use Pacify and Bats that can use Hate Transfer on your team. (Ex. You do 100 dmg to a monster is equal 100 hate. But you could do around 500+ hate per hit with Over Pride 4.)
There's also a passive skill on the Basic route that renders more effective when you have more atk. (Brute Strength)
Defense: Warlords might consider spending points on this stat for more max KOs and decrease the amount of damage received. Warlord/Overlord passive skill from route B also gives more DEF the higher your total DEF is.
Agility: Can be spent points on this stat for decreased skills' cooldowns. Gladiators might consider spending some points on this for increased mobility because they are not as tough as Warlords. Also, there's a route A passive skill that will be more effective the higher your speed is. (Berserker Rush)
Vitality: Both routes should spend points on this stat because of how slow and big this character is, he can't really move to dodge attacks well.
Inteligence: There's no skill that required to be cast for this character but Warlord's skills take a lot of mp overtime. So you might just find equipments that give INT or just ignore this stat and use MP potions or having other characters recover your MP instead.
Charisma: Charisma effects the duration of buffs from both routes. Warlords can switch equipments freely when using Titan Form/Shields for longer duration but Gladiators have to decide between the effectiveness or the duration of Over Power (The skill multiply the amount of ATK you have when you use the skill so if you have CHA equipments, you'll get rather low ATK from the skill.), so Gladiators might consider spending some points on this stat as well.
Talent: Warlords can spend all points on this stat because it affects greatly to the effectiveness of offensive skills of the route and the amount of HP restored when using Titan Form.
Luck: ...Just ignore this stat.
Possible Builds
Edit
Gladiator: Atk Vit / Atk Agi / Atk Cha
Warlord: Atk Vit / Def Vit / Tal Vit / Agi Cha
Hybrid: Atk Vit / Tal Vit
But really.. you should consider how importants the stats are and choose the stats you wish to spend points on yourself.
Skill Map
Edit
Skill

State
Lv

Normal Attack

Unlocks next hits in Bison's normal attack.

Lv.1 : Enables the second hit.

Lv.2 : Enables the third hit.

Lv.3 : Gives 25% chance to change the third hit into a wide-area swing.

Lv.4 : Gives 40% chance to change the third hit into a wide-area swing.

Passive
4

Axel Swing

Charge to swing Bison's axe around his body, hitting every targets around him.

Lv.1 : Max 4 secs and hits.

Lv.2 : Max 8 secs and hits.

Passive
2

Hold Charge

Developed from Axel Swing. Allows Bison to hold his charge attack and move freely. Release the charge by pressing Attack button as long as the skill(appears as a buff) doesn't wear off.

Passive
1

Blood Rage

Gives Bison a chance to gain more SP when receiving damage.

Lv.1 : 20% chance to gain 2 extra SP.

Lv.2 : 40% chance to gain 4 extra SP.

Passive
2

Brute Strength

Increases the damage done by the Bison's normal and charge attack by a certain percentage.

Lv.1 : Increases damage done by normal and charge attacks by 10%.

Lv.2 : Increases damage done by normal and charge attacks by 20%.

Lv.3 : Increases damage done by normal and charge attacks by 30%.

Lv.4 : Increases damage done by normal and charge attacks by 40%.

Gladiator's Over Swing is also affected by this skill.

Passive
4

Stat Plus

Increases all stats by 2 per level.

Passive
4

Mighty One

Final move. No information yet.

Active
2

Support Skill

State
Levels

Stunning Ground

Inflicts a high amount of KO on all enemies up to 6m away.

Active
1
Gladiator Skills

State
Lv

Enrage

Increases Bison's base attack power by a certain percentage for 15 seconds.

Lv.1 : +8% Base ATK. Use 4 MP.

Lv.2 : +12% Base ATK. Use 6 MP.

Lv.3 : +16% Base ATK. Use 8 MP.

Lv.4 : +20% Base ATK. Use 10 MP.

Active
4

Slam

Slams his shoulder into the target and frees himself from locks. 2ko per hit.

Lv.1 : Have at least 10 SP to use. Total of 3 hit and free up to level 2 locks .

Lv.2 : Have at least 14 SP to use. Total of 4 hit and free up to level 24locks .

Active
2

Trample

Developed from Slam.

Rams into the target using his horns, also frees himself from locks. 3ko per hit.

Lv.1 : Use 30 SP. Total of 10 hits and free from up to level 2 locks.

Lv.2 : Use 40 SP. Total of 15 hits and free from up to level 4 locks.

Active
2

Knock Down

Knock the target down using the knob of his axe.

Lv.1 : Use 5 SP. 10 ko.

Lv.2 : Use 8 SP. 20 ko.

Lv.3 : Use 12 SP. 30 ko.

Lv.4 : Use 15 SP. 40 ko.

Active
4

Controlled Swing

Allows Bison to control the direction of his charge skill and increase the duration of Hold Charge by 1 second.

Passive
1

Improved Swing

Developed from Controlled Swing.

Increase the speed of Bison's charge attack and increase the chance of 3rd and 4th normal attack. (+5% each level)

Passive
4

Far Stun

Stomps the ground and deal damage and ko to a target equal to the distance between Bison and his target. Also deals some damage and ko on self.

Lv.1 : Use 14 SP. Deals 50% ko equals to the distance.

Lv.2 : Use 18 SP. Deals 100% ko equals to the distance

Active
2

Instant Rush

Rush into the target that is further than 16m from Bison.

Lv.1 : Have at least 12 SP to use

Active
1

Berserker Rush

Gives a chance to get in Berserker Rush state when receiving damage.

+10% speed, immune to locks and heals some HP when hitting target using normal attack.

Lv.1 : 8% HP healed from damage dealt. Max 8 HP per hit. Frees and immune to level 1 locks.

Lv.2 : 12% HP healed from damage dealt. Max 16 HP per hit. Frees and immune up to level 2 locks.

Lv.3 : 16% HP healed from damage dealt. Max 24 HP per hit. Frees and immune up to level 3 locks.

Lv.4 : 20% HP healed from damage dealt. Max 32 HP per hit. Frees and immune up to level 4 locks.

Active
4

Resting Glory

Heals 35% of all party member's HP when Bison dies.

Passive
1

Fury Trance

Developed from Resting Glory. Get in Fury Trance state when Bison's HP decreased beyond a certain amount. (Will instantly be gone when HP is healed beyond the amount. )

Lv.1 : 60% HP and below, Atk +20

Lv.2 : 40% HP and below, Atk+40

Lv.3 : 20% HP and below, Atk+60

Passive
3

Over Power

Increase ATK power greatly for a short amount of time.

Lv.1 : Use 60 SP 20 MP. 150% from total amount of ATK

Lv.2 : Use 80 SP 20 MP. 200% from total amount of ATK

Note : Base ATK increased from Enrage doesn't affect the amount of ATK increased by this skill.

Active
2

Over Swing

Developed from Over Power. Changes charge attack into a fiery swing using 20 sp each use.

Note: You don't need to have charge attack for this skill to work.

Active
1
Warlord Skills

State
Lv

Power Cleave

Cleaves the enemy using his axe.

Lv.1 : 30 hate, 15 base damage. Use 10 SP

Lv.2 : 60 hate, 30 base damage. Use 15 SP

Active
2

Power Hammer

Developed from Power Cleave. Deals KO rather than hate and damage when using a hammer weapon.

Lv.1 : 10 ko

Lv.2 : 20 ko

Passive
2

War Cry

Increase Bison's hate and decrease the ATK and TAL of all enemies around him by a certain percentage.

Lv.1 : -10% ATK and TAL. Use 5 MP

Lv.2 : -20% ATK and TAL. Use 10 MP. Also has a wider range than Lv.1.

Active
2

Warlord

Developed from War Cry. Bison and party members around 12m from Bison gains extra DEF.

Lv.1 : +5% from total DEF

Lv.2 : +10% from total DEF

Passive
2

Over Pride

Gives the Bison a percent chance to increase the amount of KO and hate dealt when hitting targets with normal attacks.

Lv.1 : 20% chance. 2 KO and multiply hate by 2 times.

Lv.2 : 20% chance. 3 KO and multiply hate by 3 times.

Lv.3 : 20% chance. 4 KO and multiply hate by 4 times.

Lv.4 : 20% chance. 5 KO and multiply hate by 5 times.

Passive
4

Iron Skin

Decrease the amount of damage received within 6m range.

Lv.1 : 8% damage reduced.

Lv.2 : 16% damage reduced.

Lv.3 : 24% damage reduced.

Passive
3

Iron Shield

Developed from Iron Skin. Creates a shield that nulify damages within 6m range.

Use 10 SP and 10 MP

Active
1

Diamond Skin

Decrease the amount of damage received further than 12m range.

Lv.1 : 8% damage reduced.

Lv.2 : 16% damage reduced.

Lv.3 : 24% damage reduced.

Passive
3

Diamond Shield

Developed from Diamond Skin. Creates a shield that nulify damages further than 12m range.

Use 10 SP and 10 MP

Active
1

Earth Rupture

Blasts waves of energy in a straight line. 10 ko per wave.

Lv.1 : One wave. Use 10 SP.

Lv.2 : Three waves. Use 20SP. (Spreads in a funnel shape.)

Active
2

Earth Smasher

Developed from Earth Rupture. Jump up and strikes his weapon into the ground, dealing damage and high KO in a wide area.

Lv.1 : Use 45 SP.

Lv.2 : Use 55 SP. Also wider area and higher KO than Lv.1

Active
2

Colossal Weapon

Deals splash effect damages to the targets that has not been hit by Bison's normal attacks.

Lv.1 : 20% from normal damage, 8m area.

Lv.2 : 40% from normal damage, 8m area.

Passive
2

Colossal Armor

Developed from Colossal Weapon. Reflects some effect damage and ko back to the target that hits Bison.

Lv.1 : Reflect 1 dmg and 1 ko per hit.

Lv.2 : Reflect 2 dmg and 2 ko per hit.

Passive
2

Titan Form

Enlarges his body greatly, heals some HP and increase stats.

Lv.1 : Use 55 SP 30 MP. DEF/VIT + 50 and heals 200 HP.

Lv.2 : Use 70 SP 40 MP. DEF/VIT + 80 and heals 320 HP. Also larger body than Lv.1

Active
2
NO SKILL CLIP

Molten Axe Skills

State
Lv
======= Basic Tree Additions

Added Swing

Enable Bison the ability to add another spinning attack after its third combo.

Passive
55

Solid Hold

Blocks all ko to Bison during its charged action. Increases HoldCharge's duration equal to charged time beyond 8 sec. (+12s max)

Passive
60

Blood Bath

Double the SP returned from bloodRage.

Passive
70

Raw Strength

Gives Bison 12% chance to increases its normal and charged attack's damage by 100%.

Passive

Super Stat Plus

Increases all basic stats by 10 points.

Passive
======= A Tree Additions

Rage Control

Increases enrage and berserkerRush's level by 1 and double their durations.

Passive
55

Aspect of the Horde

Widen Bison's slam and tranple's damage area and gives them ability to remove lv.6 lock status.

Passive
60

After Shock

Widen and adds 10 ko to KnockDown and makes it inflict a 'aftershock' status that deals ko every 3 sec.

Passive
70

Spin Hack

Increase the range of Bison's charged attack by 40% and increases its damage by 10%.

Passive

Mass Stun

Gives FarStun additional ko damage equal to 50% of Bison's level to enemies within 5m range.

Passive
======= B Tree Additions

Power Reel 5

Increases the damage of powerCleave by 50% and make it reels nearby enemies toward Bison.

Passive
55

Onslaught

Create an destructive roar that deals damage equal to 10% of Bison's total hate. (Max 1999 Dmg)

Passive
60

Pride Crusher

Smash the ground in front, dealing extra damage equal to target's hate toward Bison.

Active
70

Steel Skin

Increase range effect of IronSkin/Shield to 9m, and increases IronShield's duration by 2 sec.

Passive

Mythril Skin

Reduces range effect of DiamondSkin/Shield to 9m, and increases DiamondShield's duration by 2 sec.

Passive
======= Unique Skills
Revised Skill

Reduces Sp cost of skills by 50%

Passive
55
Revised Magic

Reduces Mp cost of skills by 20%

Passive
60
Revised Art

Reduces cooldown by 12%

Passive
70

Magma Clutter

Perform a double stike attack that deals heavy damage to target.

Active

Calamity Hammer

Perform a move that repeatively deals heavy damage to target over time.

Active
Other Images
Edit