For an in-depth guide to Chameleon, see the Chameleon Guide page!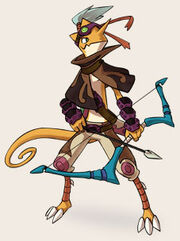 Chameleon is the Sixth Tail, the Hero of the Bow. He has uncanny accuracy and speed, firing volley after volley of deadly arrows into his opponents, without giving them a chance to attack. He has marked skill
with traps and magic, including the ability to turn invisible! As an archer, he can identify his enemies weak points, leading to extreme critical damage or increased ability against specific enemies. His default color is orange, but he can be green or even red. He has two "routes" that he can take:
The devious trapmaster, the Chamleon outlaw who has garnered quite a reputation for his wily tricks. He soaks his arrows in deadly poison to deal extra damage, and uses traps to catch opponents off guard. He possesses innate magic ability as well, including the ability to hide himself and his allies from sight. Truly a terrible and tricky foe...

Trickster
Slayer
The monster hunter, he has studied the weak points of countless enemies and can strike with deadly precision. He can instantly pinpoint the weakness of foes, and using powered up shots he assaults with endless critical hits that rain down like lightning. Any foe that stands in his way doesn't stand a chance!
Stat Builds
Edit
Attack: an important skill for dealing straight-up damage. Since Chameleons can deal a failry large amount of ranged DPS without using any skills, having high attack is useful. Of course, your mileage may vary if you want to jack up your Agi and Tal and try using only skills. Of course, by increasing only Atk and Vit, you can overpower quite a bit. This stat is the main stat for Tricksters.
Defense: it's a great stat for other classes, but with the Chameleon you may want to avoid Def. Why? Because the whole point of a Chameleon is killing opponents before they get to you. Which means maxing out your other stats. However, if you really want to make it so that your Chameleon never gets KO'd, then by all means max out your defence.
Agility: a useful stat for both routes of the Chameleon, but especially for the Trickster. The movement speed increase is important because the chameleon usually has trouble avoiding attacks. Aside from that, the only reason to keep putting points in this stat is to increase skill cooldown.
Vitality: add points for more HP as needed.
Inteligence: this stat is important for Slayers, since they tend to need more MP. Cha can be more important for Tricksters.
Charisma: good for Tricksters, since they need to have longer poison duration and invisibility time. For Slayers, consider higher Tal and Int.
Talent: a wonderful stat for people who tend to use more skills. If you want a PvE Slayer Chameleon to face hordes of monsters, then having high Tal and Int is a very good idea. For a Trickster who needs lots of poison, Cha may be a better option. An equal amount of ATK and TAL has shown to be the most effective for Slayer skills.
Luck: if you want an alternative Chameleon, then this is the stat for you...otherwise, try to avoid putting points here. Since the actual effect of Lck is rather unknown, putting points into the stat serves no discernible purpose.
Possible Builds
Edit
Trickster: Atk, Agi, Cha; or Agi, Cha, Tal.
Slayer: Atk, Int, Tal; or Vit, Int, Tal; or Agi, Int, Tal.
Hybrid: Cha, Int, Tal; or just Int and Tal with a little Atk, Agi and Cha.
High DPS: Atk, Luk(You can added some Agi for additional Cooldown reduced, Require skills from both Slayer and Trickster)
Random: Atk, Vit, Def; or Agi, Tal, Lck; or all in Lck.
Remember: coming up with a build that suits you is the best option under any circumstances!
Skill Map
Edit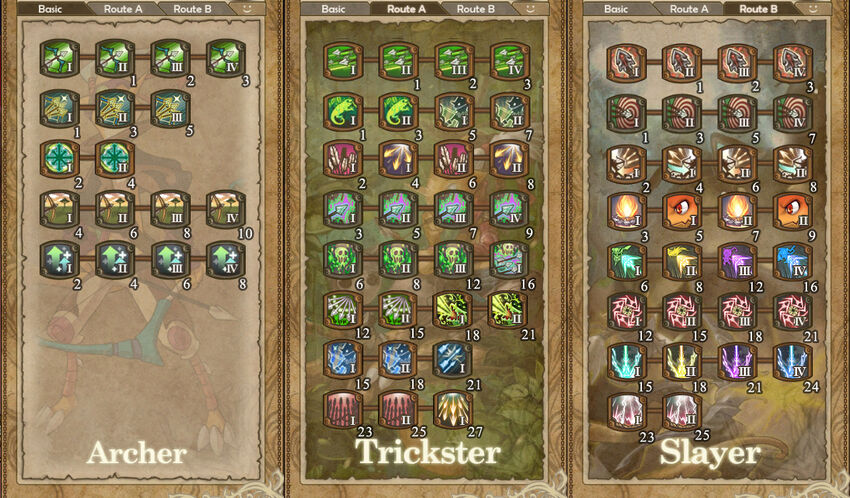 Skill

State
Lv
Quick Shot

Reduce the power of normal attacks by 5% and cooldown by 0.3 seconds per level.

Passive

4

Charge Attack

A charge attack where Chameleon will gain perfect blend (camouflage), and will fire off an AoE attack in a cone from the bow. (120, 140, 160% dmg each level)

Passive
3
Immunity

Chameleon cannot be affected by status conditions for six seconds. (stage 3 status conditions for level one, stage 5 status conditions for level two).

Active
2
Far Reach

Increases Chameleon's attack range by +3 metres every level.

Passive
4
Stat Plus

Adds +2 points to every stat per level.

Passive
4

Support Skill

State
Lv
Zephyr Lore

Gain power from Chameleon to cure status problem and increase movement speed.

Active
1
Trickster Skills

State
Lv
Quick Fire

Chameleon fires several fast, accurate shots. (4/6/8/10 shots, 12/16/20/24sp) Shots won't poison the target even if you already have "Poison Arrow".

Active
4
Perfect Blend

Chameleon gains temporary camouflage. (2/4 secs, 8/12sp)

Active
2
True Invisibility

A magic spell that makes Chameleon completely invisible. (8/10 secs, 12/30mp) Immobile while casting.

Active
2
Needle Prison

Fire several shots that trap the opponent in place for a while. (2/3 secs, 14/16sp)

Active
2
Mass Shot

Jump to dodge enemy attacks and shoot a barrage of arrows downwards. (12/24dmg 10/12sp)

Active
2
Poison Arrow

Normal attacks have a chance to inflict poison for 4 seconds. (12/16/20/24% chance, 9/4dps, 8 secs)

Passive
4
Increased Poison

Make poison stackable. (19/4, 29/4. 39/4 dps, +2 seconds each level)

Passive
3
Piercing Venom

(Development of Increased Poison) Deal more damage to a poisoned target. (+4 damage for each level of Poison Arrow)

Passive
1
Poison Volley

Shoot a volley of arrows that inflict average damage and poison target instantly.

Active
2
Venom Shock

(Development of Poison Volley) Deal all damage that would be dealt to a poisoned foe instantly. Target is immune to poison for a while afterwards. (100/150%dmg, 24/30sp, 12/24mp) Can be used on allies to give them poison immunity.

Active
2
Mass Invisibility

Cast magic that gives all teammates true invisibility. (8/12 secs, 28/36mp) Immobile while casting.

Active
2
Clear Arrow

(Development of Mass Invisibility) While invisible, any arrow fired will also be invisible and will generate no Hate. If you land a critical hit, hate will be generated and cancel the effects of Clear Arrow.

Passive
1
Final Entrapment.

Triggers a trap that cages in the target enemy and all of their nearby allies. The trap has a large radius and lasts a long time. (6/9 secs) Immobile while casting.

Active
2
Torment Rain

(Development from Final Entrapment) Fires a multitude of arrows that unleash a torrent of pain on all foes caught in Final Entrapment. (60 base dmg 15sp 15mp)

Active
1
Slayer Skills

State
Lv
Fatal Strike

Temporarily Increase the damage for next few hits of normal attacks. (+6/12/18/24 dmg, 6/8/10/12 sp, 6/8/10/12 mp, lasts 5/5/10/10 hits)

Active
4
Critical Plus

All attacks have a small chance of being critical hits. (180%dmg, 8/12/16/20% chance)

Passive
4
Left Stride

Chameleon runs left or clockwise around a target while shooting several arrows. (3/5 hit, 12/18sp)

Active
2
Right Stride

Chameleon runs right or counterclockwise around a target while shooting several arrows. Arrows go through anything, are guaranteed to hit, and deal 2ko per shot to the target, but the arrows cannot poison the target. (3/5 hit, 12sp 4/6mp)

Active
2
Camp Fire

A warm campfire is prepared for relaxation. All allies who sit (alt+x) or sleep (alt+z) next to the campfire will regain health. (3/5% recovery of Hp & Mp. Requires "Flint Kit" for casting)

Active
2
Blood Burn

Decrease Hp to recover Sp and Mp. (-15/30 Hp, +15/30 Hp and Mp)

Active
2
Bug Slayer

Chameleon targets a bug's weak point, dealing severe damage to the target plant or insect in a briliant display of archery. Comes down in a giant lightning bolt! (20 base dmg, 24sp 12mp)

Active
1
Tail Slayer

(Development from Bug Slayer) Slayer skill for other tails.

Active
1
Elemental Slayer

(Development from Tail Slayer) Slayer skill for elementals.

Active
1
Machine Slayer

(Development from Elemental Slayer) Slayer skill for mechs or toys.

Active
1
Improved Slayer

Increases the damage and cast time of Slayer skills by +50% dmg.

Passive
4
All Bug Slayer

Bug Slayer that hits all bugs within 40 metres. (30dmg, 36sp 24mp)

Active
1
All Tail Slayer

(Development from All Bug Slayer) All Slayer for other tails.

Active
1
All Elemental Slayer

(Development from All Tail Slayer) All Slayer for elementals.

Active

1
All Machine Slayer

(Development from All Elemental Slayer) All Slayer for mechs/toys.

Active
1
All Slain

Do extreme damage to all targets that were recently hit by the caster. (100/150dmg, 45/50sp 32/40mp)

Active
2
NO SKILL CLIP

Thunder Dragon Skills

State
Lv
======= Basic Tree Additions
Bow Mastery

Increases potency of Quick Shot IV by 55%.

Passive
55
Silent Walk

Allows the Chameleon to move while charging. 2t/s

Passive
60
Skin Shift

Immunity skills increase by one level of status condition, gives 10% dmg reduction.

Passive
70

Double Effect

Double equipments' chance to inflict chance status and double their duration.

Passive

Super Stat Plus

Increase all stats by 10.

Passive
======= A Tree Additions
Double Fire

Double the amount of arrows fired from QuickFire IV.

Passive
55
Erase Senses

While using True Invisibility the Chameleon disappears from the enemy's radar, rendering him completely undetectable.

Passive
60
Mass House Lock

Increase the damage of Mass Shot by 50% and duration of Needle Prison by 6 secs.

Passive
70

Rusty Decay

Enables normal attack to inflict mechanical target with 'decay' status instead of 'poison' status.

Passive

Deadly Venom

Enables 'poison' and 'decay' status to be stacked to level 6 and double Piercing Venom's damage.

Passive
======= B Tree Additions
Extra Arrows

Increases the number of arrows affected by Fatal Strike by ten.

Passive
55
Bullseye

Increases the damage dealt by a critical hit by 15%.

Passive
60
DoubleStrider

The Chameleon does two Left or Right Strides instead of one.

Passive
70

Tent

Use Canvas to set up a tent, removing all negative status from Chameleon and refill its hp mp and sp.

Active

Mark of Slayer

Inflict target with a marking status that gives Slayer and All Slayer the ability to always deal their extra damage.

Active
======= Unique Skills
Revised Skill

Reduces Sp cost of skills by 50%

Passive
55
Revised Magic

Reduces Mp cost of skills by 20%

Passive
60
Revised Art

Reduces cooldown by 12%

Passive
70

Zero Shot

Warp the dimension in front and cause it to explode, dealing 100 damage to enemies in close range.

Active

Thunder Dragon

Summons a bolt of thunder that returns effect damage back to Chameleon's attacker.

Active
Other Images
Edit