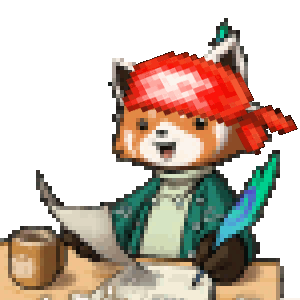 Hey! New update:
Dusk created the guild just the other day, so now people can start joining. We've set up on Pepponian in hopes that people would start building new characters on the less-crowded server. The guild's name is Vespertia, as per Dusk's executive decision, now that he's the leader. So then, what are you waiting for! Just post your name and stuff and join!
A little guild info:
Dusk (StarDuskTH) is the leader of the guild, and as of now there's no way to appoint sub-leaders. As Yo San mentioned in the comments (scroll down) currently Dusk is the only person who can add more members. So, to join the guild you'll have to contact one of us and meet with him in game. Anyways, both of us can speak fluent english, and we're hoping people will join with questions about missions, quests, and general game issues. Hopefully, all of the forum goers will join up and we can build a community of people who can all work together and be able to communicate in a predominantly thai game.
- Shiron (RamuneDrink
Huzzah! So then, here's all you need to do:
1. Input your family name/character names, or your preferred nickname. Since this will probably be a pretty close-knit, small guild, feel free to put the name you'd prefer to be called!
2. List your friend code, and I'll try and keep an update of whose codes have been added and who wants to join. MAKE SURE TO POST NEW ENTRIES AT THE BOTTOM, AND UPDATE YOUR FRIEND CODE TO MATCH CHARACTERS IN THE NEW SERVER!
3. Post one or more of your character classes, and their location (server)
I'll prolly fix up the tables later. Color-coding, doncha know? So then, just fill out all the categories (under want to join, mind you).
And that's all!
| Name | ID | Server | Characters | Play Time |
| --- | --- | --- | --- | --- |
| StarDuskTH (Dusk) | 37539 | Pepponian | Wolf | Thai Local Time |
| RamuneDrink (Shiron) | 24448 | any | Chameleon | Pacific Standard |
| | | | | |
Want to Join
Edit
| Name | ID | Servers | Characters | Play Time |
| --- | --- | --- | --- | --- |
| | | | | |
| | | | | |
| | | | | |
| | | | | |