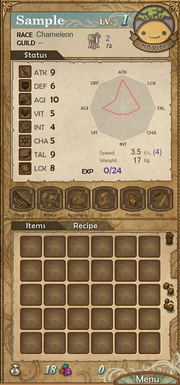 Well, this page has come a long ways. I've edited the table so that it is now sortable. If you could, please direct your attention to the arrows next to each column heading. Clicking them will do stuff. The column that's really thin and labeled _ is actually the rank for each item, with the letter designating what type of equipment ("H" is for Helmets, "A" is for Armor, and "W" is for Weapon) and the number designating what level the equipment is. This rating system starts at 0 and goes to 4, but the numbers should increase as more equipment is added. Note that 0 as a rating simply signifies that the equipment is your character's starting equipment.
So, I've hit one small setback, which is that we've updated our wiki faster than the actual developer's can develop their website. In other words, we've input the info for all the equipment on their webpage. Until they add all the clothing for characters who need to buy cloth, such as Monkeys, Cats, Penguins, etc. we cannot update. Additionally, I've identified some errors with the info on the website. Some of the armor stats were turning up as the Helmet stats for certain items (Justice Armor and Slayer Gear) and have thus omitted that information. If you have the actual data and would like to share it, please feel free to add it in the same format as the other data.
After I Finish adding all the stuff, I'll rearrange all the items and put them into the propper order for all the 12 Tails (Wolf first, Chameleon sixth, etc.). And maybe I'll work out some ratings or order fr all the random accessories and stuff.
So, I think that's all for now. If someone is feeling creative, maybe we can get some flavor text in here describing the new and mysterious world of items (sarcasm). Seriously, a description would be so nice. This stupid update text is sooo uninteresting and unappealing to the eyes.
Ta ta!
-RamuneDrink
Equipment
Edit
This category includes all weapons and wearable items (excluding pets) for every character.
Working with this: http://12tails.herorangers.com/itemshop/itemshop.aspx?f=24
| Image | _ | Equipment | Character | Cost | Level | Effect |
| --- | --- | --- | --- | --- | --- | --- |
| | H2 | Soldier Helmet | Wolf | 600 gold | 20 | DEF+4 VIT+4 INT+4 |
| | A2 | Soldier Armor | Wolf | 1,200 gold | 22 | DEF+20 VIT+6 INT+3 CHA+1 |
| | H2 | Vagabond Bandana | Wolf | 600 gold | 20 | ATK+4 DEF+2 AGI+3 TAL+3 |
| | A2 | Vagabond Gear | Wolf | 1,200 gold | 22 | DEF+16 AGI+6 TAL+6 LCK+2 |
| | H3 | Paladin Helmet | Wolf | 1,400 gold | 32 | DEF+8 VIT+6 INT+6 |
| | A3 | Paladin Armor | Wolf | 2,800 gold | 34 | DEF+28 VIT+8 INT+4 CHA+2 |
| | H3 | Blade Bandana | Wolf | 1,400 gold | 32 | ATK+6 DEF+4 AGI+5 TAL+5 |
| | A3 | Blade Master Gear | Wolf | 2,800 gold | 34 | DEF+24 AGI+7 TAL+7 LCK+4 |
| | H4 | Hero Helmet | Wolf | 3,000 gold | 44 | ATK+4 DEF+6 AGI+4 VIT+4 INT+4 TAL+4 |
| | A4 | Hero Armor | Wolf | 6,000 gold | 46 | DEF+38 AGI+4 VIT+4 INT+2 TAL+4 LCK+2 |
| | H2 | Berserker Helmet | Bison | 600 gold | 20 | ATK+4 DEF+4 AGI+2 |
| | A2 | Berserker Gear | Bison | 1,200 gold | 22 | ATK+5 DEF+22 LCK+3 |
| | H2 | Defender Helmet | Bison | 600 gold | 20 | DEF+4 VIT+4 INT+2 TAL+2 |
| | A2 | Defender Armor | Bison | 1,200 gold | 22 | DEF+24 VIT+4 INT+2 |
| | H3 | Gladiator Helmet | Bison | 1,400 gold | 32 | ATK+6 DEF+6 AGI+4 CHA+4 |
| | A3 | Gladiator Armor | Bison | 2,800 gold | 34 | ATK+6 DEF+30 AGI+6 |
| | H3 | Warlord Helmet | Bison | 1,400 gold | 32 | DEF+8 VIT+6 INT+3 TAL+3 |
| | A3 | Warlord Armor | Bison | 2,800 gold | 34 | DEF+32 VIT+8 INT+2 |
| | H4 | Havoc Helmet | Bison | 3,000 gold | 44 | ATK+4 DEF+6 AGI+4 VIT+6 INT+2 CHA+2 TAL+2 |
| | A4 | Havoc Armor | Bison | 5,800 gold | 46 | ATK+6 DEF+36 AGI+6 VIT+6 |
| | H2 | Brawler Collar | Panda | 600 gold | 20 | ATK+2 DEF+2 AGI+4 VIT+4 |
| | A2 | Brawler Outfit | Panda | 1,200 gold | 22 | ATK+6 DEF+18 AGI+6 |
| | H2 | Wuxian Hat | Panda | 600 gold | 20 | DEF+2 INT+3 TAL+4 LCK+3 |
| | A2 | Wuxian Outfit | Panda | 1,200 gold | 22 | DEF+16 INT+4 TAL+6 LCK+4 |
| | H3 | Striker Collar | Panda | 1,400 gold | 32 | ATK+4 DEF+4 AGI+6 VIT+6 |
| | A3 | Striker Gear | Panda | 2,800 gold | 34 | ATK+8 DEF+28 AGI+6 |
| | H3 | Sage Hat | Panda | 1,400 gold | 32 | DEF+4 INT+6 TAL+6 LCK+4 |
| | A3 | Sage Outfit | Panda | 2,800 gold | 34 | DEF+24 INT+4 TAL+8 LCK+6 |
| | H4 | ShinJitsu Cap | Panda | 3,000 gold | 44 | ATK+4 DEF+4 AGI+4 VIT+4 INT+2 TAL+6 LCK+4 |
| | A4 | ShinJitsu Armor | Panda | 5,800 gold | 46 | ATK+6 DEF+30 INT+6 TAL+6 LCK+6 |
| | H2 | Lancer Helmet | Whale | 600 gold | 20 | ATK+2 DEF+4 VIT+6 |
| | A2 | Lancer Gear | Whale | 1,200 gold | 22 | DEF+24 VIT+5 LCK+1 |
| | H2 | Partisan Hood | Whale | 600 gold | 20 | DEF+2 INT+4 CHA+2 TAL+4 |
| | A2 | Partisan Robe | Whale | 1,200 gold | 22 | DEF+20 INT+4 CHA+2 TAL+4 |
| | H3 | AquaKnight Helmet | Whale | 1,400 gold | 32 | ATK+6 DEF+6 VIT+8 |
| | A3 | AquaKnight Armor | Whale | 2,800 gold | 34 | DEF+35 VIT+5 LCK+2 |
| | H3 | Templar Hood | Whale | 1,400 gold | 32 | DEF+4 INT+6 CHA+4 TAL+6 |
| | A3 | Templar Robe | Whale | 2,800 gold | 34 | DEF+28 INT+6 CHA+2 TAL+6 |
| | H4 | Justice Helmet | Whale | 2,200 gold | 44 | ATK+4 DEF+6 VIT+4 INT+6 CHA+2 TAL+4 |
| | A4 | Justice Armor | Whale | 7,000 gold | 46 | info not available |
| | H2 | Tactician Goggles | Chameleon | 600 gold | 20 | ATK+4 AGI+4 CHA+4 |
| | A2 | Tactician Outfit | Chameleon | 1,200 gold | 22 | DEF+18 AGI+6 CHA+6 |
| | H2 | Buster Goggles | Chameleon | 600 gold | 20 | INT+4 TAL+4 LCK+4 |
| | A2 | Buster Gear | Chameleon | 1,200 gold | 22 | DEF+20 TAL+6 LCK+4 |
| | H3 | Trickster Goggles | Chameleon | 1,400 gold | 32 | ATK+6 AGI+8 CHA+6 |
| | A3 | Trickster Outfit | Chameleon | 2,800 gold | 34 | DEF+24 AGI+8 CHA+10 |
| | H3 | Slayer Goggles | Chameleon | 1,400 gold | 32 | INT+6 TAL+7 LCK+7 |
| | A3 | Slayer Gear | Chameleon | 2,800 gold | 34 | info not available |
| | H4 | Commander Helmet | Chameleon | 3,000 gold | 44 | ATK+4 AGI+5 INT+4 CHA+4 TAL+5 LCK+4 |
| | A4 | Commander Gear | Chameleon | 5,800 gold | 46 | DEF+30 AGI+6 CHA+7 TAL+7 LCK+4 |
| | H2 | Infantry Hat | Mole | 600 gold | 20 | ATK+3 AGI+3 TAL+6 |
| | A2 | Infantry Gear | Mole | 1,200 gold | 22 | ATK+4 DEF+14 AGI+4 TAL+8 |
| | H2 | Steam Helmet | Mole | 600 gold | 20 | VIT+5 INT+5 TAL+2 |
| | A2 | Steam Suit | Mole | 1,200 gold | 22 | DEF+20 VIT+4 INT+4 TAL+2 |
| | H3 | Bomber Hat | Mole | 1,400 gold | 32 | ATK+5 AGI+5 TAL+8 LCK+2 |
| | A3 | Bomber Gear | Mole | 2,800 gold | 34 | ATK+5 DEF+24 AGI+5 TAL+8 |
| | H3 | Machinist Helmet | Mole | 1,400 gold | 32 | DEF+2 VIT+6 INT+8 TAL+4 |
| | A3 | Machinist Gear | Mole | 2,800 gold | 34 | DEF+28 VIT+5 INT+5 TAL+4 |
| | H4 | Capital Hat | Mole | 3,000 gold | 44 | DEF+12 VIT+12 CHA+4 |
| | A4 | Capital Outfit | Mole | 5,800 gold | 46 | ATK+4 DEF+30 AGI+4 VIT+4 INT+6 TAL+6 |
| | W2 | Butler Duster | Wolf | 900 jil | 25 | ATK+12 CHA+12 LCK+12 |
| | H2 | Butler Cap | Wolf | 600 jil | 25 | CHA+8 LCK+8 |
| | A2 | Butler Outfit | Wolf | 1,200 jil | 25 | DEF+10 CHA+15 LCK+15 |
| | W2 | Champion Barbell | Bison | 900 jil | 25 | ATK+12 CHA+12 LCK+12 |
| | H2 | Sportsman Bandana | Bison | 600 jil | 25 | CHA+8 LCK+8 |
| | A2 | Sportsman Outfit | Bison | 1,200 jil | 25 | DEF+10 CHA+15 LCK+15 |
| | W2 | Fighter Knuckle | Panda | 900 jil | 25 | ATK+12 CHA+12 LCK+12 |
| | H2 | Fighter Band | Panda | 600 jil | 25 | CHA+8 LCK+8 |
| | A2 | Fighter Outfit | Panda | 1,200 jil | 25 | DEF+10 CHA+15 LCK+15 |
| | W2 | Chef Weapon Set | Whale | 900 jil | 25 | ATK+12 CHA+12 LCK+12 |
| | H2 | Chef Hat | Whale | 600 jil | 25 | CHA+8 LCK+8 |
| | A2 | Chef's Robe | Whale | 1,200 jil | 25 | DEF+10 CHA+15 LCK+15 |
| | W2 | Lady Fan | Cat | 900 jil | 25 | ATK+12 CHA+12 LCK+12 |
| | H2 | Chinese Hairstyle | Cat | 600 jil | 25 | CHA+8 LCK+8 |
| | A2 | Chinese Dress | Cat | 1,200 jil | 25 | DEF+10 CHA+15 LCK+15 |
| | W2 | Snooker Cue | Chameleon | 900 jil | 25 | ATK+12 CHA+12 LCK+12 |
| | H2 | Snooker Hat | Chameleon | 600 jil | 25 | CHA+8 LCK+8 |
| | A2 | Snooker Outfit | Chameleon | 1,200 jil | 25 | DEF+10 CHA+15 LCK+15 |
| | W2 | Medic Rifle | Rabbit | 900 jil | 25 | ATK+12 CHA+12 LCK+12 |
| | H2 | Medic Hat | Rabbit | 600 jil | 25 | CHA+8 LCK+8 |
| | A2 | Medic Uniform | Rabbit | 1,200 jil | 25 | DEF+10 CHA+15 LCK+15 |
| | W2 | Trumpet Cannon | Mole | 900 jil | 25 | ATK+12 CHA+12 LCK+12 |
| | H2 | Trumpeter Hat | Mole | 600 jil | 25 | CHA+8 LCK+8 |
| | A2 | Trumpeter Outfit | Mole | 1,200 jil | 25 | DEF+10 CHA+15 LCK+15 |
| | W2 | Magician Mike | Monkey | 900 jil | 25 | ATK+12 CHA+12 LCK+12 |
| | H2 | Magician Hat | Monkey | 600 jil | 25 | CHA+8 LCK+8 |
| | A2 | Magician Outfit | Monkey | 1,200 jil | 25 | DEF+10 CHA+15 LCK+15 |
| | W2 | Fire Extinguisher | Penguin | 900 jil | 25 | ATK+12 CHA+12 LCK+12 |
| | H2 | Fire FIghter Hat | Penguin | 600 jil | 25 | CHA+8 LCK+8 |
| | A2 | Fire Fighter Outfit | Penguin | 1,200 jil | 25 | DEF+10 CHA+15 LCK+15 |
| | W2 | Waitress Tray | Sheep | 900 jil | 25 | ATK+12 CHA+12 LCK+12 |
| | H2 | Waitress Band | Sheep | 600 jil | 25 | CHA+8 LCK+8 |
| | A2 | Waitress Dress | Sheep | 1,200 jil | 25 | DEF+10 CHA+15 LCK+15 |
| | W2 | Teacher Stick | Bat | 900 jil | 25 | ATK+12 CHA+12 LCK+12 |
| | H2 | Teacher Hat | Bat | 600 jil | 25 | CHA+8 LCK+8 |
| | A2 | Teacher Outfit | Bat | 1,200 jil | 25 | DEF+10 CHA+15 LCK+15 |
| | W4 | Hero Sword | Wolf | 5,000 gold | 48 | ATK+38 DEF+4 AGI+4 INT+4 TAL+4 |
| | W4 | Havoc Hammer | Bison | 5,000 gold | 48 | ATK+44 DEF+2 AGI+3 VIT+3 TAL+2 |
| | W4 | NinJitsu Gauntlet | Panda | 5,000 gold | 48 | ATK+42 AGI+4 VIT+2 INT+2 TAL+4 |
| | W4 | Justice Lance | Whale | 5,000 gold | 48 | ATK+36 DEF+5 VIT+5 INT+4 TAL+4 |
| | W4 | Pirate Knife | Cat | 5,000 gold | 48 | ATK+40 AGI+4 INT+2 TAL+4 LCK+4 |
| | W4 | Commander Bow | Chameleon | 5,000 gold | 48 | ATK+42 INT+3 CHA+3 TAL+3 LCK+3 |
| | W4 | Magistrate Rifle | Rabbit | 5,000 gold | 48 | ATK+40 AGI+3 INT+4 CHA+3 TAL+4 |
| | W4 | Capital Cannon | Mole | 5,000 gold | 48 | ATK+40 DEF+2 AGI+2 VIT+4 INT+2 TAL+4 |
| | W4 | Theurgist Mike | Monkey | 5,000 gold | 48 | ATK+22 VIT+4 INT+12 CHA+4 TAL+12 |
| | W4 | Archmage Staff | Penguin | 5,000 gold | 48 | ATK+26 INT+10 CHA+8 TAL+10 |
| | W4 | Holy Codex | Sheep | 5,000 gold | 48 | ATK+30 INT+8 CHA+8 TAL+8 |
| | W4 | Queen Wand | Bat | 5,000 gold | 48 | ATK+32 INT+6 CHA+10 TAL+6 |
| | - | Halo | any | 500 Jil | - | DEF+3 AGI+3 INT+3 TAL+3 |
| | - | Clear Glasses | any | 400 gold | 10 | INT+1 TAL+1 |
| | - | Sunglasses | any | 500 gold | 10 | CHA+1 TAL+1 |
| | - | Bug Antennae | any | 120 gold | 6 | LCK+2 |
| | - | Bandit Band | any | 290 gold | 14 | ATK+2 AGI+3 CHA+2 TAL+3 |
| | - | Demon Horn | any | 500 jil | 19 | ATK+3 VIT+3 CHA+3 LCK+3 |
| | - | Flower Band | any girl | 200 gold | - | INT+2 CHA+6 |
| | A0 | Novice Cloth | any | 5 gold | - | DEF +3 |
| | | | | | | |
| | | | | | | |
| | | | | | | |
| | | | | | | |
| | | | | | | |
| | | | | | | |
| | | | | | | |
| | | | | | | |
| | | | | | | |
| | | | | | | |
| | | | | | | |
| | | | | | | |
| | | | | | | |
| | | | | | | |
| | | | | | | |
| | | | | | | |
| | | | | | | |
| | | | | | | |
| | | | | | | |
| | | | | | | |
| | | | | | | |
| | | | | | | |
| | | | | | | |
| | | | | | | |
| | | | | | | |
| | | | | | | |
| | | | | | | |
| | | | | | | |
| | | | | | | |
| | | | | | | |
| | | | | | | |
| | | | | | | |
| | | | | | | |
| | | | | | | |
| | | | | | | |
| | | | | | | |
| | | | | | | |
| | | | | | | |
| | | | | | | |
| | | | | | | |
| | | | | | | |
| | | | | | | |
| | | | | | | |
| | | | | | | |
| | | | | | | |
| | | | | | | |
| | | | | | | |
| | | | | | | |
| | | | | | | |
| | | | | | | |
| | | | | | | |
| | | | | | | |
| | | | | | | |
| | | | | | | |
| | | | | | | |
| | | | | | | |
| | | | | | | |
| | | | | | | |
| | | | | | | |
| | | | | | | |

Materials (Mats)
Edit
blah
| Image | Food | Type | Cost | Effect |
| --- | --- | --- | --- | --- |
| | Bread Bun | Bread | 6 Gld | +20 HP |
| | Bread Row | Bread | 8 Gld | +15 HP, +10 MP |
| | Bun | Bread | 11 Gld | +25 HP, +5 SP |
| | Cream Bun | Bread | 11 Gld | +25 HP, +5 MP |
| | Meat Bun | Bread | 11 Gld | +25 HP, +10 ATK |
| | Cheese Cake | Cake | 9 Gld | +10 HP, +15 MP, +5 CHA |
| | Fruit Cake | Cake | 11 Gld | +15 HP, +20 MP, +5 LCK |
| | Strawberry Cake | Cake | 14 Gld | +10 HP, +20 MP, +5 SP, +5 INT |
| | Chocolate Cake | Cake | 16 Gld | +5 HP, +30 MP, +5 SP, +5 INT |
| | Moon Cake | Cake | 3 Gld | Gives Bless Lv. 1 |
| | Moon Cake w/ Egg | Cake | 12 Gld | Gives Bless Lv. 4 |
| | Carrot | Vegetable | 1 Gld | +3 HP |
blah
Quest Items
Edit
blah