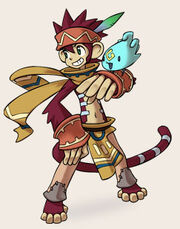 Monkey - the summoner. He is the ninth member of 12 Heros Tails. He mainly borrows the power of fire and the earth to do his bidding. He also has skills to reinforce allies and summons alike.
The inferno summoner. By the power of the Phoenix, the Pyromancer can use the element of fire to his will as well as summoning a Phoenix to aid him in battles.

Pyromancer
Geomancer
The invoker of ancient archaeology. The discovery of power left behind by an ancient civilization led to the abilty to control the mighty golem, Gadina. In later levels the Geomancer can call forth Lavu, the dragon of the earth.
Stat Builds
Edit
Attack: Not really that useful, since the Monkey shouldn't be using his default attack all that much. Depending on what stat Gadina draws from though, it might be good if you're a Geomancer. Put a few points here if you feel like you've got a lot of time between using skills.
Defense: Much like atack, this isn't too useful. In terms of survivability, you'd be better off putting points in Vitality, which also has other benefits as well compared to this. You really shouldn't put any points here.
Agility: Somewhat useful, as lower cooldown times lets you unleash your strongest attacks faster. Put a decent amount of points here.
Vitality: Very useful. Since you won't be putting points in defense, if you want to survive, here's where all those points will go. Plus, having a high vitality allows the Monkey to be a somewhat decent healer, as his charge attack can be used to heal both his summon and allies alike. Put lots of points here.
Inteligence: Incredibly useful. High MP is an absolute necessity for the Monkey, as if you don't have enough MP to re-summon a creature if it dies, you're pretty much screwed. This should be one of your highest priorities in terms of setting stats.
Charisma: Not that useful, as the times that enemies are inflicted by statuses seems pretty set in stone. Perhaps it could influence them in some way, however, so it may not be bad to put a few points here if you've got some to spare.However, Cha does affect how long Lavu lasts.
Talent: Incredibly useful for the Pyromancer. High talent equals more damage done by both him and his Phoenix, so you'll want to invest lots of points here. Much like Int, this should be one of your highest priorities.
Luck: Not really useful at all. Put points here if you'd like, but I doubt it would do you much good.
Possible Builds
Edit
Pyromancer: Vit, Int, Tal.
Skill Map
Edit
Skill

State
Lv

Normal Attack

Enables the next attack of the Monkey's combo.

Passive
1

Damage Cast

Development of Normal Attack. The Monkey's mike flies around him when he's casting a spell, damaging enemies by a certain percent of the Monkey's normal attack damage. (50,100%)

Passive
2

HP Transfer

Click and hold the left mouse button on an ally to transfer the Monkey's HP to it, the ratio determined by the level. This ratio is doubled if the Monkey is recovering his summon. (1:2,3:4,5:6,7:8 Monkey:Ally HP)

Passive
4

Summon Attack

Gives the Monkey's summon an order to attack the current selected target.

Active
1

Summon Defense

Development of Summon Attack. Gives the Monkey's summon an order to return to the Monkey.

Active
1

Unsummon

Development of Summon Defense. Removes the Monkey's summon, giving half the MP used to summon it back as well.

Active
1

Summon Release

Development of Unsummon. Releases the Monkey's summon, turning it into an enemy.

Active
1

Instant Cast

Enables Monkey to cast a number of spells equal to the skill's current level without any cast time.

Active
2

Stat Plus

Increases all stats by 2 per level.

Passive
4

Soul Capture

Put description here.

Active
2

Support Skill

State
Levels

Elemental Lock

Traps all foes in a small radius of the character, preventing them from moving for a short while.

Active
1
Pyromancer Skills

State
Lv

Fireball

Monkey shoots a fireball at a selected target. (40,60,80,100 dmg)

Active
4

Phoenix

Monkey summons a Phoenix to help aid him in combat. If the Phoenix is killed, it has a chance at being revived with full HP. (90,180,270,360 HP, 12,18,24,30%)

Active
4

Rapid Fire

Increases the speed at which the Phoenix can shoot a fireball at its enemy by a certain percentage, as well as lowers the cooldown time of the Money's Fireball spell. (20,30,40%, 1-2,2-4,3-6 sec)

Note: The percentage is also influenced by Monkey's INT.

Passive
3

Sky Crimson

Monkey sends the fourth form Phoenix to the sky, where it shoots fireballs down on adjacent targets.

Active
1

Intense Fire

Increases the damage of the Phoenix's fireballs by a certain percentage, as well as causes the Monkey's Fireball spell to inflict "Burning" status for 4 seconds. (20,30,40%, 4,8,12 dmg/sec)

Note: The percentage is also influenced by Monkey's TAL.

Passive
3

Blazing Arrow

The fourth form Phoenix transforms itself into an arrow and fires forward at an enemy for high damage. Note that using this ability kills the Phoenix, but he still has his chance to revive.

Active
1

Flash Fire

A circle of flames surrounds the Monkey, damaging all enemies inside it. (16x2,24x4,32x6,40x8 dmg)

Active
4

Ja

Monkey summons a Ja. It increases the Monkey's TAL by 10 per level while it's alive, and can also explode to cause high damage and KO.

Active
4

Fire Rune

Gives Monkey the Fire Rune status effect, which offers him a 20% percent chance to recover his MP and SP for every attack he or his Phoenix lands. (4,8,12 MP/SP)

Passive
3

Runic Flare

Development of Fire Rune. Monkey creates a path of fire wherever he walks, constantly draining his SP until it hits zero. (24 dps)

Active
1

World Ignition

A targeted enemy receives a debuff that makes it take 10% more damage for 60 seconds. If it has taken a certain amount of damage while the debuff is active, it will then take an equal amount of HP in damage. (800, 1200 dmg)

Active
2
Geomancer Skills

State
Lv

Ground Lock

Creates stone pillars which trap a selected enemy for 3 seconds. (12,24,36,48 dmg)

Active
4

Gadina

Summons a stone golem who fights enemies off with a sword. Generates hate and KO when summoned, depending on level. (150,300,500,750 HP, 50,100,150,200 hate, 5,10,15,20 KO)

Active
4

Titan Sword

Upgrades Gadina's sword, resulting in higher ATK and KO per hit (+20,40,60 ATK, 2,3,4 KO/hit)

Passive
3

Planet Breaker

The fourth form Gadina spins around wildly, attacking everything around it in a large radius for high damage.

Active
1

Aegis of Earth

Upgrades Gadina's shield, resulting in higher DEF and VIT. It also increases the duration of Monkey's Ground Lock spell to 4 seconds. (+20,40,60 DEF, 20,30,40% VIT)

Passive
3

Titanic Earth Pulse

The fourth form Gadina transforms into a large energy cannon, blasting everything in front of it with a burst of energy. Note that using this destroys Gadina.

Active
1

Stone Hammer

Summons a giant stone to fall on top of enemies to do damage and inflict KO. (45,70,95,120 dmg, 20,30,40,50 KO)

Active
4

Buiten Hou Hou

Monkey summons a giant shield that absorbs all damage taken while it's still alive. (200,400,600,800 HP)

Active
4

Earth Rune

Monkey has a 20% chance of recovering a certain amount of MP and SP whenever he or his summon hit a target. (4,8,12 MP/SP)

Passive
3

Runic Sand

Development of Earth Rune. Monkey traps all enemies in sand when they get close to wherever he walks while the skill is active, constantly draining the Monkey's SP until it hits zero. (2 seconds, 5 SP/second)

Active
1

Lavu

Monkey summons the giant stone snake Lavu for 60 seconds, which spins around in the ground to damage all enemies in its grasp while holding the mouse down. Note that it is necessary to sacrifice an earth summon to bring out Lavu. (30,50 dps, 3,5 KO)

Active
2
NO SKILL CLIP

Diablo Skills

State
Lv
======= Basic Tree Additions

Mike Blink

Enables Mike to attack enemy from a distance. Also increases its damage by 20%.

Passive
55

Mike Circle

Increases HpTransfer to 8:10 hp and call out Mikes to circle around its target, dealing damage to nearby enemies.

Passive
60

Summon Soul

Temporary gives friendly target various buff status depending on Monkey's current summon type.

Passive
70

Auto Instant

Gives Monkey a 12% chance to instantly cast any spell. Also enables 'Instant Cast' to be used with any C skills.

Passive

Super Stat Plus

Increases all stats by 10.

Passive
======= A Tree Additions

Fire Upkeep

Enables Monkey to hold up to two fireballs and release them with his normal attack. Also adds 20 damage to fireball

Passive
55

Instant Blaze

Enables phoenix's new blazing attack. Activate this to use it instantly.

Active
60

Fire Soul

Passively adds 40% of Monkey's level to the summoned Phoenix basic stats.

Passive
70

Fire Avatar

Merge Monkey with Phoenix4 and transform them into a special form (+100 tal, +100 agi). Also increses Fireball's burn status by 2 lv.

Active

Blazing Lance

Enables FireAvartar to perform its charging attack. Also increases damage of all FlashFire spells.

Passive
======= B Tree Additions

Second Stone

Add 2 seconds to 'groundlock' duration and adds a second impact that deals 10 ko to it.

Passive
55

Gadina Guard

Enables Gadina4 to guard and restore its hp. Activate this to use it instantly.

Active
60

Earth Soul

Passively adds 40% of Monkey's level to the summoned Gadina basic stats.

Passive
70

Earth Form

Merge Monkey with Gadina4 to transform them into a special form (+100Atk 100Def). Also adds 1 ko to Monkey's normal attack.

Active

Stone Sentinel

Enables EarthForm to charge, reducing damage by half and gradually restoring its hp. Also adds 30 damage and 10 ko to StoneHammer

Passive
======= Unique Skills
Revised Skill

Reduces Sp cost of skills by 50%

Passive
55
Revised Magic

Reduces Mp cost of skills by 20%

Passive
60
Revised Art

Reduces cooldown by 12%

Passive
70

Volcanic Eruption

Call out a destructive volcano that deals heavy damage to all allies and enemies in the area.

Active

Gaos

Summon a volcanic dragon to help with the battle. Requires 1 Volcanic Heart.

Active
Other Images
Edit