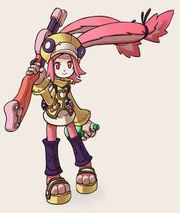 The Sharp Shooter of 12 Tails "Rabbit". This character is the 7th Tail. She use her gun for harry a hostile. Shoot from backup, mixing potion for allies and discount cost in a shop!. If you want to harry enemy or support your allies. This character is in your mind!
Doctors are known for helping people. This route is too! Whether it be mixing potions to throw on the floor for other players or you just want to heal yourself. Doctors also pack special support shots to buff allies.

Alchemist Doctor
Merchant
Do you want to be richer than The Godfather? Then this route was made just for you! Cheaper prices from NPCs, more rewards at the end of missions, and look down your scope for one-hit sniper shots!
Stat Builds
Edit
Attack: Adding points in Atk will never let you down. It helps increase your attack power, to the point that a head shot could kill enemies with one shot. Although investing in attack doesn't improve the damage of most skills, but putting points into attack, you can deal more damage than any other class with just your charge attack.
Defense: Rabbit is the type of charactor that shoots enemies from afar or supports other player in the back. You want to avoid recieving damage as much as possible, so defense is not a good stat to invest in. If you want to increase your survilbility, putting points in Vit is a better choice.
Agility: Helps with your movement speed and reduces the cooldown of all skills. If you want those 2 things, add some points here.
Vitality: Add some points here to increase your HP. Helps greatly with survivability, unlike Def.
Intelligence: Useful for an Alchemist Doctor, cause you'll need to use a lot of MP to heal and support your allies. It can also help to reduce casting time of skills. Merchants, however, have no need for Int.
Charisma: Useful for the Alchemist Doctor, as it can increase the length of her buffs, debuffs, and ultimate skill. Much like with Intelligence, Merchants do not need Cha.
Talent: Useful for both paths. Tal helps to increase the damage of your skills as well as your minimum SP.
Luck: Don't even put a single point in this.
Possible Builds
Edit
Alchemist Doctor: Atk, Vit; or Atk, Int; or Int, Vit; or Int, Cha; or Int, Agi; or any combination of Atk, Vit, Int, Cha, Agi.
Merchant: Atk, Tal ; or At, Vit; or Atk, Tal, Vit; or Atk, Agi; or Atk, Tal, Agi; or any combination of Atk, Tal, Vit, Agi.
Note : Not sure if there are other builds, but you can always try something new other than these builds.
Skill Map
Edit
(SOMEONE PUT UP A SKILL MAP? THANKS)
Skill

State
Lv

Long Shot

Increase Range of Attacks/Skills by 4m per level.

Passive

4

Aimed Shot

Look down the scope of the gun to do bonus damage if you headshot.

Headshot Bonuses:
Lv1: (140~180% dmg, 2ko)
Lv2: (170~240% dmg, 4ko)
Lv3: (200~300% dmg, 6ko)

Passive
3

Bounce

Jump high into the air to avoid attacks for 5 seconds per level (Cha doesn't increase skill's duration).

Active
2

StatScan

Improve from Aimed Shot.

Provides info about enemies stats.

Passive
1

Hyper Shot

Increase Long-Range Damage using formula: Distance-20m * Level of Skill.

Passive
4

Stat Plus

Adds +2 points to every stat per level.

Passive
4
Final Move

?????

Active
2

Support Skill

State
Lv

Replenishment

Heals Support skill's level% of the target's HP, MP, and SP, as well as resets KO to zero.

Active
1
Alchemist DoctorSkills

State
Lv

Maim Shot

Shot that causes "Maim" Status. Applies slow and DoT (like a bleed).

Maim Effects:
Lv1: Speed lowered to 3.5, 5dmg/sec for 3sec
Lv2: Speed lowered to 3.0, 10dmg/sec for 3sec
Lv3: Speed lowered to 2.5, 15dmg/sec for 3sec
Lv4: Speed lowered to 2.0, 20dmg/sec for 3sec

Active
4

Mix

Throws 3 HP potions on the floor. They get better as you level this up.

Potions:
Lv1: +20HP (Small) x3
Lv2: +40HP (Medium) x3
Lv3: +60HP (Large) x3
Lv4: +80HP (Mega) x3

Active
4

Shake

Throws 3 SP potions on the floor. They get better as you level this up.

Potions:
Lv1: +4SP (Small) x3
Lv2: +8SP (Medium) x3
Lv3: +12SP (Large) x3

Active
3

Miracle Blend

Random mix of 3 potions get thrown. Possible potions are ones that shrink you, make you a giant, turn you invisible, or poison you.

Active
1

Alchemist Lab

Unlocks the Lab Room and lets you craft potions. Improve lv and duration of Miracle Blend

(Recipes and more info here: Workshops )

Passive
4

Sticky Gum

Drops goo on the floor for 12 seconds that slows enemies. Diameter is 1m per level.

Active
2

Acidic Field

Makes a fairly large poison AoE effect with a DoT. level*10dmg/sec for 12sec. Also lowers DEF by 10*level.

Active
2

Immune Shot

Shoot an ally with this to lower a debuff by 1 level and give them Immunity for 15sec.

Active
1

Boost Shot

Shoot an ally with this to give Boost1 buff. (+100HP, +10VIT, 30sec)

Active
1

Heat Shot

Shoot an ally with this to give Heat1 buff. (+10SP, +10TAL, 30sec)

Active
1

Life Shot

Shoot an ally with this to give AutoLife1 buff. Revive with 100HP on death.

Active
1

Medical Enhancement

Increases time for Immune, Boost, Heat, and Life Shots by 10sec/level and make them stackable.

Active
3
Rapid Trance

Waive herb costs on potion mixing and all Doctor skills have no cooldown for 12sec.

Active
1

Gorgon Shot

Shoots a laser in a straight line and any enemy hit turns to stone and recieves +50% dmg from attacks while in the stone state.

Active
2
Merchant Skills

State
Lv

Gil Shot

Use your gil as bullets, dealing extra damage

LV1 : -1g, +10 dmg, 2 ko

LV2 : -2g, +20 dmg, 3 ko

LV3 : -3g, +30 dmg, 4 ko

LV4 : -4g, +40 dmg, 5 ko

Active
4

Bunny Bargain

Make you buy/sell item with special price from NPC's shop with 5, 10, 15, 20%.

Passive
4

Herb Finder

Allow rabbit to pick herb (30, 50% successful).

Passive
2

Backpack

Reduce the weight of item that rabbit carried (50, 100%). Click use to swing the bag, making all enemies in small range around rabbit to KO.

Note : The more weight of carried items mean more damage, most high level rabbit carried 20-30 Metal Geta (weight 15 tg) which can be found in colonel box (200rp).

Passive, Active
2

Four Shot

Fire gun in 4 directions, damaging enemies in range (15dmg x4, 30dmg x4).

Active
2

Circle Shot

Fire gun from above, damaging enemies in range (10 dmg x3)

Active
2

Shooting Array

Shot a ricochet bullet, damaging enemies from many directions (+6-24 dmg x4, +12-48 dmg x4)

Active
2

Customized Shotgun

When carrying shotgun, rabbit normal attack become area attack (attack range is reduced). The effect of Hypershot is reversed. Note that you can Aimshot normally.

Passive
2

Mall

Allow rabbit to open a shop (4, 8 items).

Active
2

Truce Trading & Co

Rabbit can buy an item from monster with 140, 80% normal price.

Active
2

Extra Reward

Gain more money and exp from mission and quest (5, 10, 15, 20%).

Passive
4

Millionaire

Use gils to call a mob of peppon to damage enemies in range. Damage increase with rabbit's total gils. (-250, 500 g)

Active
2
NO SKILL CLIP

Magistrate Skills

State
Lv
======= Basic Tree Additions

Bouncing Bullet

Enables Rabbit's normal attack to bounce off walls. Also increases its damage based on Rabbit's level and its range by 5m.

Passive
55

Deadly Aim

Increases the damage of aimed shot by the amount of its aiming time (max 4 sec, 300%).

Passive
60

From the Above

Enables Rabbit to attack while she bounced into the air. Also adds another hit when rabbit returns to the ground.

Passive
70

Snipe Mastery

Change damage of HyperShot to 6 damage per 1m and makes it starts from 0m instead of 16m.

Passive

Super Stat Plus

Increase all stats by 10.

Passive
======= A Tree Additions

Knee Shot

Adds 20 damage to Maimshot and gives it a 20% chance to deal 40 ko to the target.

Passive
55

Extra Potion

Increases the number of potions created from 'Mix' to 5. Also adds Rabbit's level to the amount they heal.

Passive
60

Miracle Drop

Increases the number of potions created from 'MiracleBlend' to 5. Also gives it a chance to create a golden potion that temporary adds 150% damage.

Passive
70

Med Research

Enables Rabbit to use Alchemist Lab lv.5 in towns. Also reduces the cooldowns from all Rabbit-type items by 50%.

Passive

Healing Field

????

======= B Tree Additions

Diamond Shot

Shoot a special bullet that uses 1000 gil to do 1000 effect damage to a non-player target. Also passively add 20 damage to GilShot.

Active, Passive
55

Skill Bargain

Increases BunnyBargain's discount and bonus to 25%. Also reduces money used in Rabbit's skills by 40%.

Passive
60

Big Bag

Double the range and damage of Backpack skill. Also increases the success rate of HerbFinder to 100%.

Passive
70

Ten Shot

Shoot out ten shots in different directions, damaging to all enemies in range. Also increases damage of FourShot and CircleShot by 10.

Active

Contract

????

======= Unique Skills
Revised Skill

Reduces Sp cost of skills by 50%

Passive
55
Revised Magic

Reduces Mp cost of skills by 20%

Passive
60
Revised Art

Reduces cooldown by 12%

Passive
70

New Order

????

Extravagance

????
Other Images
Edit
| | | |
| --- | --- | --- |
| | add image | add image |