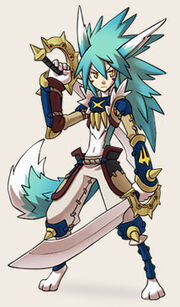 The Wolf is the leader of the "Tails" that players can play in the game. Wolf is a skilled swordman who trained rigorously in order to prove himself. The Wolf has two "Routes" he can take.
The guardian of justice. He has received the highest praise of courage and strength in order to lead others against the approaching evil. His main functionality is to tank and buff teammates/ debuff enemies. He can also resurrect fallen teammates when high in levels.

Paladin
Blade Master
The vagabond of shadow. While peace-loving and a loner, if provoked then the wrath of the night is shown. This class excels in dealing out damage in short amount of time. He later learns buffs that greatly increase his prowess in battles for limited durations.
Stat Builds
Edit
Attack: Useful for both paths. Atk affect normal attack and most skills including Air Slasher, Crusader, Blade Fang, and Dark Edge (still need more testing for other skills).
Defense: Reduce reciving damage and increase your max KO. May be needed in Paladin to make a tank build. For blade master, you may add some points to avoid KO.
Agility: You may want it or not depending on how you like to play. If you want a flexible charactor that has high movement speed to aviod being hit, add points on Agi. Agi can also reduce the cooldown of your skill.
Vitality: Vit is very useful for paladin because more Vit will make you more benefit from Second Wind and you need to survive untill the very end so you can resurrect your allies. For Blade Master, add some points to increase your HP as you need.
Intelligence: Not needed on Blade Master because most skills don't need MP. For Paladin, his skills require a lot of MP so you may want to add some points to Int depending on how often you would like to use skills. If you feel like you don't have enough MP, add some.
Charisma: May help to increase important buff duration such as Lunar Eclipse and Dark Edge, but Wolf doesn't need Cha because he already has a skill like Preserverance to increase buff duration.
Talent: Another important stat, Tal help you use a good opening skill (because of high stating SP) and increase the power of some important skill including Cross Impact, Grand Cross and Feral Strike (still need more testing for other skills).
Luck - Add points on Lck if you want to try something new.
Possible Builds
Edit
Paladin :
Vit, Def - Although you're not the best tanker in 12 tails, but with this build, no one will take you down easily. The downfall is that your damage output is quite low but even without Tal, your Cross Impact and Grand Cross combo are still deadly.
Vit, Def, Tal - The idea is that you still have high Vit and Def but you put some points on Tal untill your minSP reach 20, so you can instancely use Second Wind anytime you need. This build also help you deal more damage because of Tal.
Vit, Atk - Paladin attack skills need high sp to use, so before you can gather enough sp, you must depend on your normal damage. With this build, you're focusing on normal attack and charge. Improve your Air Slasher to the max level.
Vit, Tal - The most popular and effective build so far for paladin to hybrid. This build is meant for PVP because you can do high damage from cross impact and grand cross combo early (or instantly if your stating SP is high enough) and also with high Vit, you can heal yourself well. This build work well in high level (55+) and with proper gears (With high tal equipment slotting with tal stones).
Vit, Tal, Int - Paladin's skill need a lot of mp so sometimes you will feel that you don't have enough mp, especially in the long game or when you're lucky with double art and you want to spam your Cross Impact, Grand Cross. However, mp problem can be solve using Penguin's support skill.
Other builds can be played as well, depending on your creation and play style.
Blade Master : Atk, Tal ; or Atk Vit ; or Atk, Agi ; or Atk, Tal, Vit ; or Atk, Agi, Tal. (Anything in Atk, Agi, Tal, Vit)
Remember that there's nothing wrong about stat build. Every point can be useful. Your build should suit your play style. There is no such thing as the best build.
Skill Map
Edit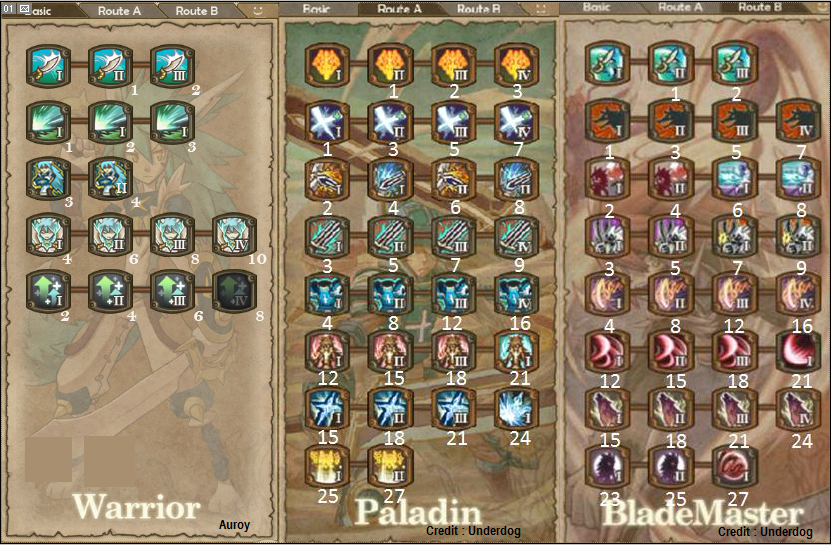 Basic Class: Warrior

Skills

State
Lv

Combo

Adds +1 attack to regular attack combo per level.

Passive

4

Air Slasher

Left-Click and Hold to charge a powerful linear attack.

Passive
4

Perserverance

Increases all positive buffs timers by (30%/50%).

Passive
2

Double Art

Has level*10% chance to be able to repeat a skill with no cooldown.

Passive
4

Stat Plus

Increases all stats by 2 per level.

Passive
4

Executioner

????

Active
?

Support Skill

State
Lv

Obsidian Fang

Call upon Wolf's power to damage all targets within 24 meters. Damage inflicted is increased per hit (6 hits)
Damage is calculated by Wolf's current level x5 - x10

Active
1
A-Tree: Paladin

Skills

State
Lv

Brave Spirit

Gives Valor buff to all nearby allies.
Valor1: +4% dmg, 3%spd, 4mp
Valor2: +6% dmg, 4%spd, 6mp
Valor3: +8% dmg, 5%spd, 8mp
Valor4: +10% dmg, 6%spd, 10mp

Active
4

Crusader

Life Steal attack. % of HP returned increased per level. SP used returned after cast.
Crusader1: 25dmg, 6mp, 10sp, 25% Life Steal
Crusader2: 35dmg, 12mp, 12sp, 50% Life Steal
Crusader3: 45dmg, 14mp, 14sp, 75% Life Steal
Crusader4: 55dmg, 16mp, 16sp, 100% Life Steal

Active
4

Power Break

Attack reducing skill. Lowers target attack by 10%*level, max 20*level.

Active
2

Armor Break

Defense reducing skill. Lowers target defense by 10%*level, max 20*level. This skill will remove shields like Bubble Shield and Ice Shield.

Active
2

Weapon Plus

Increases Stats gained from Weapon by 10% * level.

Passive
4

Armor Plus

Increases Stats gained from Armor by 10% * level.

Passive
4

No KO

Has (30%/45%60%) chance to make wolf recieve 0 KO to prevent getting knocked down.

Passive
3

Second Wind

Restores 50% of wolf max HP (Usable when below 25%)

Active
1

Cross Impact

Powerful attack dealing damage in a cross-shaped area.
Costs (30/35/40)SP and (15/20/25)MP. Dealing 45 dmg*level.

Active
3

Grand Cross

Embed swords in the ground to release damaging holy lights from the location of the latest Cross Impact (-15 sp, -40 mp, Cross Impact damage+60)

Active
1

Mass Resurrection

Revive all allies in 40 m with halve HP . Has (25%/50%) chance to succeed. Costs (35/35)SP and (45/60)MP.


Active
2
B-Tree: Blade Master

Skills

State
Lv

Blade Fang

the wolf attacks multiple times in a row quickly with added damage

lvl 1: +12 dmg 2 hits uses 6 sp
lvl 2: +18 dmg 3 hits uses 9 sp
lvl 3: +24 dmg 4 hits uses 12 sp

Active
3

Feral Instinct

Increases the Wolf's normal attack damage and adds a chance to gain additional sp when attacking.

lvl 1: dmg + 10%, 5% chance of additional sp
lvl 2: dmg + 15%, 10% chance of additional sp
lvl 3: dmg + 20%, 15% chance of additional sp
lvl 4: dmg + 25%, 20% chance of additional sp

Passive
4

Provoke

Creates 'Hate' and temporarily decreases the targets sp and stops all health regeneration.

lvl 1: 60 hate, -5 sp. uses 4 sp and 4 mp
lvl 2: 120 hate, -10 sp. uses 6 sp and 6 mp

Active
2

Art Cancel

Slide forward and attack to interrupt enemy's casting skill.
Can also be used to escape from binding spells.

lvl 1: escape all binding lower than lvl 3. uses 10 sp
lvl 2: escape all binding lower than lvl 5. uses 14 sp

Active
2

Counter

Strike back at the enemy that attacked you with increased power

lvl 1: 100% return. uses 2 sp
lvl 2: 200% return. uses 3 sp

Active
2

Impulse

Automatically cast Counter1 (or Counter2 on Impulse2) when you lose more than 7% of max. HP.

Passive
2

Feral Strike

Leap forward to deal damage.
Can be used to dodge skills, leap out of binding skills and (with luck) use it until your opponent dies. (Consumes no SP, requires a minimm of SP)

lvl 1: 15 dmg. requires 15 sp to use
lvl 2: 30 dmg. requires 18 sp to use
lvl 3: 45 dmg. requires 21 sp to use
lvl 4: (60)? dmg. requires (24)? sp to use

Active
4

Blade Song

Rapidly slash the enemy

lvl 1: 7 hits, uses 32 sp

lvl 2: 9 hits, uses 36 sp
lvl 3: (11)? hits, uses (40)? sp

Active
3

Last Blade

Adds an additional attack to your skill Blade Song. Deals damage depending on how many hits the enemy has taken.

Passive
1

Dark Edge

When activated your attack consumes 1 MP and 1 SP per attack and increases your damage

Lvl 1: 1 MP, 1 SP, 2 sec. uses 12 mp
Lvl 2: 2 MP, 2 SP, 4 sec. uses ??? mp
Lvl 3: 3 MP, 3 SP, 6 sec. uses ??? mp
Lvl 4: 4 MP, 4 SP, 8 sec. uses ??? mp

Active
4

Lunar Eclipse

Increases Wolf's speed and attack range. (40%, 80% - 12 sec)

Active
2

Final Eclipse

When in Lunar Eclipse mode, Wolf's charge attack will be changed into Feral Strike.

Passive
1
C-Tree: Duel Blade

Skills

State
Lv
======= Basic Tree Additions

Continuous Blade

Enables Wolf to change directions with each of his normal attack's combo and connect them in a continuous loop.

Passive
55

Sky Slasher

Enables Wolf to release a more powerful air-slashing wave after charging for 12 seconds.

Passive
60

Fortitude

Passively decreases the duration of the all negative status on Wolf by 25%.

Passive
70

Sublime Art

Restores 5 mp and 5 sp everytime Wolf's Double Art is triggered. Also enables C-Skills to trigger Double Art.

Passive

Super Stat Plus

Increase all stats by 10.

Passive
======= A Tree Additions

Glorious Spirit

Increases the level of 'valor' by 2 level.

Passive
55

Law Bringer

Increases Crusader's damage by the number equal to Wolf's currrent level.

Passive
60

Third Rend

Attacks the target's weakpoint, dealing extra damage to enemies with Power Break and Armor Break. Also increases the level of these two statuses by 1.

Active
70

Holy Sword

Temporarily enchance equiped weapon with holy power, doubling its attack for 12 seconds.

Active

Holy Armor

Temporarily enchance equiped armor with holy power, doubling its defense for 12 seconds.

Active
======= B Tree Additions

Blood Fang

Doubles the damage range of BladeFang, and add extra 6 damage to it.

Passive
55

Wild Heart

Increase effect of Feral Instinct by 5%, and increase hate and duration for Provoke by '60 hate' and 3 sec.

Passive
60

Art Breaker

Skill that deals damage and cancels enemy skill from a distance. Increases level of ArtCancel by 1.

Active
70

Mirror Counter

Perform a counter move that returns all taken damage to one target enemy.

Active

Feral Assault

Zoom forward through all enemies, dealing damage targets in a long straight line. Remove all lv.5 lock status

Active
======= Unique Skills
Revised Skill

Reduces Sp cost of skills by 50%

Passive
55
Revised Magic

Reduces Mp cost of skills by 20%

Passive
60
Revised Art

Reduces cooldown by 12%

Passive
70

Dual Brand

Perform multiple sword slashing moves that deal damage to all enemies in the area.

Active

Twin Resonance

Create expanding waves that deal damage in a very wide area for a short period.

Active